Dear fellow book authors and publishers . . .
Viral marketing rocks! The problem is: It's a bit like bottling lightening… seemingly impossible to do.
UNLESS you have an environment that fosters, nurtures, and encourages sharing.
That's what Pinterest is all about and the reason I want you to listen in to this video replay…
Drive 122,547 Targeted Visitors To Your Kindle Book
(Or Any Other Website) for Free Using Pinterest
Do you want to know more on how to use Pinterest to drive traffic to any page on the Internet? To drive traffic that is viral, targeted, and ready to buy?
To learn how to use Pinterest more effectively to market your books, products, and services, check out this free webinar: http://realfastinfoproduct.com/johnkwebbie.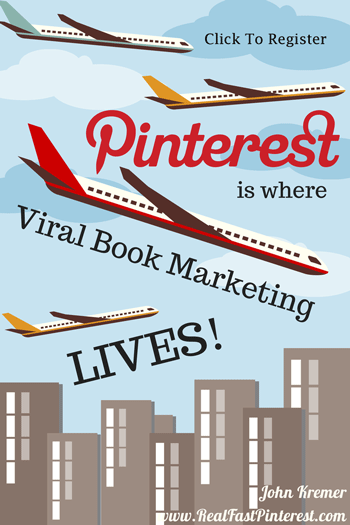 My webinar partner Daniel Hall and I are going to show you some cool, head-slappin' things like . . .
How Pinterest is THE MOST viral social media platform in existence
Why one book-o-graphic was repinned over 1.4 million times and drove over 122,547 website visitors
The graphic hack that practically forces people to notice your pin
How to create your own Book-O-Graphic that folks will love and share on Pinterest
How you can effectively use Pinterest even if you're not a graphic artist and couldn't design your way out of a wet paper bag – I'm almost giddy about showing you this
The characteristics of the most shared infographics on Pinterest and how you can exploit them
This training is going to be like dining on your favorite meal at a Michelin-star restaurant. If you sell (or want to sell) anything online, then don't miss this webinar. See you there!
About John Kremer
John Kremer is author of 1001 Ways to Market Your Books, the Relationships Matter Marketing program, and many other books and reports on book marketing, Internet marketing, social media, and book publicity. -- John Kremer on Book Marketing.